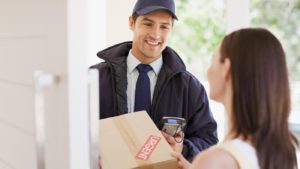 Digital documents can be e-mailed across the interconnected computers. But physical goods still require couriers and truck companies. International shippers also need the assistance of trains, aeroplanes, and carrier ships. All these delivery companies play a significant role in the economy. They not only transport packaged goods but also deliver gifts and valuable mail.
Social and business obligations create the demand for parcel deliveries. They transport packed items and documents from the sender to receiver.

These services are very important for the social and economic well being. Online stores and homeowners benefit greatly from these couriers.

Purchased goods and gift items are securely packed and even sealed. These products have to be shipped without any damage, destruction, or loss.

The capable shippers operate in local, regional, national, and global markets. They implement a well-designed "store and forward" strategy.

Parcels from different customers are collected and stored in a warehouse. They are sorted and sent to the receivers using cost-effective techniques.

The courier services have their own transportation assets like vans and trucks. They also partner with other transporters to deliver goods and gifts.

Contemporary deliverers make effective use of modern technology. They keep the customer informed and allow continuous tracking of the shipment.
How To Pack?
The delivery companies are effective only if the packaging is secure. Their best plans and transport vehicles cannot protect loosely packed goods. The customer has to take the onus and submit wrapped parcels. The items should not be visible, and they should be safely hidden away inside a box or container. These tips are useful for sending expensive goods –
Packaged items are made of metals, plastic, wood, and paper. Their quality and quantity have to be noticed before packing or gift wrapping.

Use protective material like bubble wrap for the parcel goods. Keep it in an airtight box filled with foam, paper, or some other loose filling.

Appliances and electric goods also require insulation plastic or thermocol. The idea is to secure the precious item so that it does not move inside the box.

This container has to be closed on all the sides without any gaps. Seal the edges using a reliable tape, and make sure it does not wobble or fall over easily.

Finally, Label the sturdy box with all the important details. Printed labels must have sender and receiver addresses with postal or zip codes.

Some parcel companies also have a friendly insurance policy. Spend a little more if the parcel has highly valued assets or priced goods.
The trustworthy delivery companies can safely transport precious goods and mail. These couriers have a network of vehicles, personnel, and warehouses. They collect the securely wrapped parcels and store them for logistical reasons. These items are subsequently sent to the receiver's address. The reliable operators transport and deliver all types of small and large goods. Customers have to submit labelled parcels for safe and traceable deliveries.