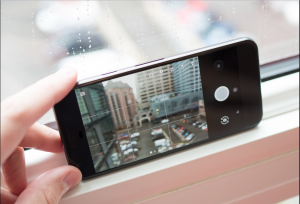 An unnamed source revealed the characteristics of the "reference" Android-smartphone Google Pixel 2. According to the informant, one of the models by working name Walleye will have a 4.97-inch screen and a design "almost identical" to last year's device.
Most likely, the device will get the same wide frames around the screen, and its resolution will be 1920×1080 pixels. Walleye will lose 3.5-millimeter audio port – instead Google will add stereo speakers. It is also promised a Snapdragon 835 processor, 4 gigabytes of RAM and 64 GB of storage on a flash drive. The production of smartphone will HTC.
Another model – Taimen with 5.99-inch OLED-display (1440r) from LG – will have a narrower frame in comparison with the current Pixel XL. It is credited with a two-tone metal panel and a rear glass cover. Instead of a dual camera, Taimen will receive one lens with a dual LED flash.
Where to buy this Pixel?
We with great difficulty found Google Pixel 2 XL. This is not a new iPhone, which you can buy just hours after the start of sales, when the devices arrive in Moscow from Berlin, Paris, Hong Kong and New York. There are no crazy Pixel shoppers, fans of the system like to discuss the superiority of Android over iOS, but when it comes to buying, they are not in a hurry to give 70 thousand for a phone.
But there are no exact prices, so it's not a fact that we will see it in the official retail store at all. Anyway, sales will be very modest, practically piece, in the segment of expensive iPhone smartphones out of competition which year, Apple is loved everywhere.
But let's not talk about the sad, it's better to talk about what is so good about Pixel 2, that here draws attention against the background of analogs.
Google Assistant
The new assistant has become a kind of continuation of Google Now, but even smarter and more intelligent. I do not know what you think about Siri, but according to my feelings the Apple system is blunt and recognizes voice commands is not always right. At Google such problems happen much less often, the assistant in most cases accurately understood, that I want, it was not necessary to ask questions anew.
Google Assistant does not supportfecountried, so to test the features of the function, you need to switch the language of the system to English.
It is expected that the novelties will be released before the end of this year. This was announced in March by the head of Google's device development department Rick Osterloh, noting that devices will remain in the upper price segment. Currently, the cheapest option Pixel is sold in the US for 649 dollars without taxes, the most expensive – 869.
Source: pixel2phone.com